April 27th, 2011
http://bdra.uk/wp-cron.php?doing_wp_cron=1596066938.3331239223480224609375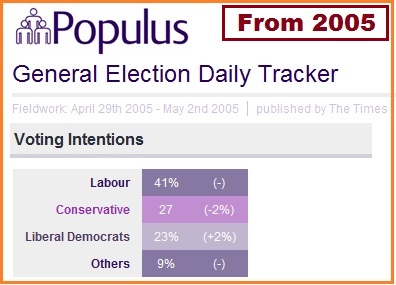 follow url Populus May 2005
http://pane-bistecca.com/category/hazelnut-haselnuss/?print=print-search
A reminder of this shocker from 2005?
http://hudsonriverpilots.com/?sccss=1 At a big polling conference before the 2010 general election the boss of ICM, Martin Boon, touched on the challenges of carrying out surveys over bank holiday weekends and referred to the above famous Populus poll from 2005.
http://novimet.com/produits/le-logiciel-de-traitement-zphi/
Tramadol Overnight Shipping Visa For fieldwork took place over the Saturday, Sunday and Monday before the May 5 2005 general election day and came out with a 14 point Labour lead – three days later Blair's party won with 36.2% to the Tories 33.2% and the LDs 22.7%.
http://blog.bobokids.co.uk/wp-cron.php?doing_wp_cron=1596019673.9567289352416992187500
go click here This was widely put down to the challenges of finding a balanced sample during long summer weekends and it has become part of polling folklore that surveys during such periods can produce skewed results.

get link
http://banburyaerials.com/tag/home/ In the run-up to the May 5th elections we have not one but two long holiday weekends and a lot of people are away. So it might just be that we'll get one or two quirky outcomes.
Get Tramadol Prescription Online
http://archangel-michael-hospice.com/wp-cron.php?doing_wp_cron=1596033067.9460771083831787109375 The AV polling has in the past ten days been extraordinarily consistent and there seems to be the same broad picture coming out of Scotland.
follow link
see url The possible bank holiday effect is just something to bear in mind.
source site
Mike Smithson
go site
http://avancebuilders.com/wp-json/oembed/1.0/embed?url=http://avancebuilders.com/2020/06/21/gerausche-zum-downloaden-kostenlos/
http://creativeandcultural.com/ads.txt